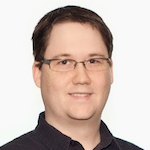 Wade Waldron
Wade Waldron is the Microservices Practice Lead, Senior Training Developer, and Senior Consultant at Lightbend. He is the primary author of the Lightbend Reactive Architecture training course.
Wade started his career as a developer in 2005 building games for the Playstation 2, Xbox, etc. In 2011 he joined Point2 Homes where he began working on an Akka based microservices platform to provide realtime updates to real estate websites. In 2014 Wade joined BoldRadius where he consulted with a variety of companies on how to use Akka, and related technologies. He also began teaching courses on Akka and Scala.
In 2016, Wade released a book "Applied Akka Patterns" along with his co-author Michael Nash
Today Wade works with Lightbend where he consults with clients and builds training materials. He focuses on helping people make a smooth transition from a monolithic application to Reactive microservices.