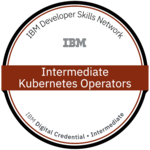 Intermediate Kubernetes Operator
Course Badge
IBM
Intermediate Kubernetes Operator
HOW TO EARN THIS BADGE
This badge is earned after successfully completing all course activities and passing the test of the following Cognitive Class course:
Kubernetes Operators Intermediate
WHY EARN THIS BADGE?
This badge earner has developed skills for building operators with Operator-sdk. They have demonstrated an understanding of the ideas and architecture underlying Kubernetes operators, and successfully constructed and deployed simple Golang, Helm, and Ansible operators.
Learn more about the our Badge Program and the IBM Badge Program