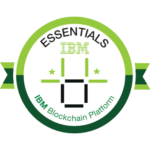 Blockchain Essentials
Course Badge
IBM
Blockchain Essentials
HOW TO EARN THIS BADGE
This badge is earned after successfully completing all course activities and passing the test of the following Cognitive Class course:
Understand blockchain technology and how it can solve business problems. Learn the basics of developing applications with chaincode.
WHY EARN THIS BADGE?
This badge earner has developed an understanding of Blockchain principles and practices and how they can be applied within a business environment. They have an understanding of Blockchain and distributed ledger systems, the important concepts and key use cases of Blockchain and how assets can be transferred in a Blockchain network.
---
Learn more about the our Badge Program and the IBM Badge Program