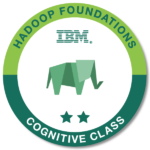 Big Data Hadoop Graduate
Course Badge
IBM
Hadoop Foundations – Level 2
HOW TO EARN THIS BADGE
This badge is earned after successfully completing all courses of the following Cognitive Class learning path:
Are you interested in moving beyond the elephant in the room and understanding Hadoop as a foundational tool set in your future? Then select this learning path to gain exposure to the tools used in Big Data, Hadoop's core components and supporting open source projects.
WHY EARN THIS BADGE?
This badge attests that the following skills have been obtained by the holder:
Has a basic understanding of Hadoop.

Understands how to implement MapReduce jobs within a Yarn enabled cluster.

Is able to use a number of tools to move data within the Hadoop cluster and can use Hive to store and query data.
WHAT'S NEXT?
---
Learn more about the our Badge Program and the IBM Badge Program