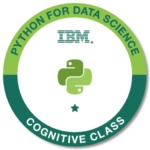 Python Data Science
Course Badge
IBM
Python for Data Science
HOW TO EARN THIS BADGE
This badge is earned after successfully completing all course activities and passing the test of the following Cognitive Class course:
This free Python course provides a beginner-friendly introduction to Python for Data Science. Practice through lab exercises, and you'll be ready to create your first Python scripts on your own!
WHY EARN THIS BADGE?
The badge earner will be able to write their own Python scripts and perform basic hands-on data analysis using our Jupyter-based lab environment.
---
Learn more about the our Badge Program and the IBM Badge Program