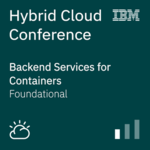 Hybrid Cloud: Backend Services for Containers
Course Badge
IBM
Hybrid Cloud: Backend Services for Containers
HOW TO EARN THIS BADGE
This badge is earned after successfully completing all course activities and passing the test of the following Cognitive Class course:
Hybrid Cloud: Backend Services for Containers
Learn about the most popular data science tools, including how to use them and what their features are.
WHY EARN THIS BADGE?
This badge earner will have an introduction to building and deploying universal application images for Kubernetes and OpenShift®. Additionally, the badge recipient will understand the steps required to enable applications to access protected Linux function using OpenShift® security context constraints (SCCs) and develop operators for backend services in Kubernetes and OpenShift®.
Learn more about the our Badge Program and the IBM Badge Program