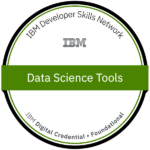 Data Science Tools
Course Badge
HOW TO EARN THIS BADGE
This badge is earned after successfully completing all course activities and passing the test of the following Cognitive Class course:
Learn about the most popular data science tools, including how to use them and what their features are.
WHY EARN THIS BADGE?
This badge earner is able to use Jupyter Notebooks including its features and popular tools used by R Programmers including RStudio IDE. The earner understands how to use various data science and data visualization tools hosted on Skills Network Labs. The individual is familiar with IBM Watson Studio including its features and capabilities, and can create and share a Jupyter Notebook.
Learn more about the our Badge Program and the IBM Badge Program