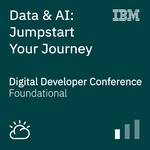 Data & AI: Jumpstart Your Journey
Course Badge
IBM
Data & AI: Jumpstart Your Journey
HOW TO EARN THIS BADGE
This badge is earned after successfully completing all course activities and passing the test of the following Cognitive Class course:
Data & AI: Jumpstart Your Journey
Learn about ML and MLOps.
WHY EARN THIS BADGE?
This badge earner has gained introductory knowledge and hands-on experience regarding ML and MLOps. Specifically, they have gained hands-on experience in the following: Python for DataScience and related libraries; building machine learning models through sklearn; automatic build of machine learning models with AutoAI; deploying ML models as API endpoints; versioning the deployed models; explaining AI models; and building prescriptive models with decision optimization.
Learn more about the our Badge Program and the IBM Badge Program