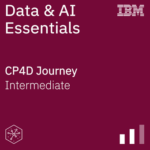 Data AI Essentials
Course Badge
HOW TO EARN THIS BADGE
This badge is earned after successfully completing all course activities and passing the test of the following Cognitive Class course:
Please Note: This has been replaced with the End-to-End Data Science on CloudPak course. Please click on the Start Course button to be redirected to this course.
WHY EARN THIS BADGE?
This badge earner has received hands-on experience with the end-to-end Data Science & Artificial Intelligence workflow using IBM Cloud Pak for Data. This included using the Cloud Pak for Data platform to collect data, organize data, analyze data, and Infuse AI into applications.
---
Learn more about the our Badge Program and the IBM Badge Program