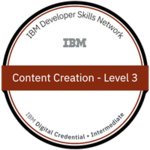 Content Creation - Level 3
Course Badge
IBM
Creating and Publishing Online Courses with Skills Network
HOW TO EARN THIS BADGE
This badge is earned after successfully completing all course activities and passing the test of the following Cognitive Class course:
In this course you will explore how to create, develop, and publish online courses using IBM Skills Network.
WHY EARN THIS BADGE?
The badge earner knows how to create and publish online courses on the Skills Network (SN) platform. They understand how to create a new course in SN Author Workbench, develop content, and work with SN Studio to add and configure course components such as videos, readings, and hands-on labs. As well, they can create assessments, set up a grading policy and promote, maintain and update a course during its life cycle.
Learn more about the our Badge Program and the IBM Badge Program