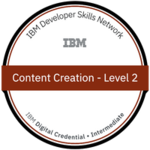 Content Creation - Level 2
Course Badge
IBM
How to Create and Publish Guided Projects and Hands-on Labs
HOW TO EARN THIS BADGE
This badge is earned after successfully completing all course activities and passing the test of the following Cognitive Class course:
In this course you will discover how to enhance your learning content with practical, real-world experiences to delight and motivate your learners.
WHY EARN THIS BADGE?
This badge earner demonstrated a working knowledge of features that make hands-on labs and guided projects successful on Skills Network. They can design and create interactive, skill-building learning experiences in a variety of tools, update content using the Markdown language and an open source file management system, use quality assurance (QA) tools and best practices to complete testing, recognize the importance of enlisting contributors, and can share content for review as well as end use.
Learn more about the our Badge Program and the IBM Badge Program