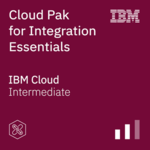 Cloud Pak for Integration Essentials
Course Badge
IBM
Cloud Pak for Integration Essentials
HOW TO EARN THIS BADGE
This badge is earned after successfully completing all course activities and passing the test of the following Cognitive Class course:
Cloud Pak for Integration Essentials
WHY EARN THIS BADGE?
This badge earner has received hands-on experience with a comprehensive cloud integration solution using IBM Cloud Pak for Integration. This includes using the Cloud Pak for Integration platform to manage an API ecosystem, to integrate applications and data across multiple clouds and on premise, to enact transactional data exchanges between applications, and to implement responsive application patterns that can react to events in realtime.