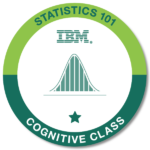 Statistics 101
Course Badge
HOW TO EARN THIS BADGE
This badge is earned after successfully completing all course activities and passing the test of the following Cognitive Class course:
Take this course and you won't fail statistics. Welcome to the Statistics 101 course, taught by Murtaza Haider, Associate Professor at Ryerson University. Statistics is one of the most challenging topics to learn, but Murtaza brings a gentle introduction to statistics in practice. Learn about descriptive statistics, variance, probability, correlation, and data visualization. This course ends with a fully-guided statistics exercise exploring the "hot" topic of: do good looking professors get better teaching evaluations? A free trial of SPSS Statistics…
WHY EARN THIS BADGE?
The badge holder demonstrates an understanding of descriptive statistics, normal distribution, standard deviation, variance, correlation, and best practices for data visualization.
WHAT'S NEXT?
Check out the other courses on Cognitive Class!
---
Learn more about the our Badge Program and the IBM Badge Program