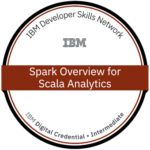 Spark Overview For Scala Analytics
Course Badge
IBM
Spark Overview for Scala Analytics
HOW TO EARN THIS BADGE
This badge is earned after successfully completing all course activities and passing the test of the following Cognitive Class course:
On-line reviews show the preference to use Scala with Spark vs Python for enterprise scale big data analytical platforms. Why is that? This question will be addressed in this course as well as many others that will guide your use of this program to address your need for speed.
WHY EARN THIS BADGE?
This badge earner understands the essential concepts associated with building applications using Spark. This includes leveraging core RDD and Data Frame APIs to perform analytics on datasets with Scala and the ability to leverage the Map-Reduce framework using Scala programming language.
---
Learn more about the our Badge Program and the IBM Badge Program