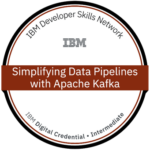 Simplifying Data Pipelines with Apache Kafka
Course Badge
IBM
Simplifying Data Pipelines with Apache Kafka
HOW TO EARN THIS BADGE
This badge is earned after successfully completing all course activities and passing the test of the following Cognitive Class course:
When you hear the terms, producer, consumer, topic category, broker, and cluster used together to describe a messaging system, something is brewing in the pipelines. Get connected and learn what that is, and what it means!
WHY EARN THIS BADGE?
The badge earner understands the architecture, components and practical application of Kafka for addressing data engineering needs. This includes hands-on demonstration of the essential measures necessary to produce and consume messages using command-line tools, Java APIs, working with Kafka Connect and connecting Kafka to Spark
---
Learn more about the our Badge Program and the IBM Badge Program