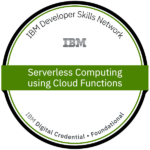 Serverless Computing Using Cloud Functions Developer 1
Course Badge
IBM
Serverless Computing using Cloud Functions – Developer 1
HOW TO EARN THIS BADGE
This badge is earned after successfully completing all course activities and passing the test of the following Cognitive Class course:
This course is designed to teach you serverless computing essentials which include how to develop serverless applications composed of loosely-coupled, microservice-like functions.
WHY EARN THIS BADGE?
The badge holder has proven their knowledge of Serverless computing including its use cases, patterns, underlying programming model and approaches for cloud deployments using functions or containers. In addition, they have demonstrated hands-on development skills by implementing serverless functions as actions, connecting them to event sources using triggers and rules and exposing them as web actions and APIs using IBM Cloud Functions and the Node.js programming language.
---
Learn more about the our Badge Program and the IBM Badge Program