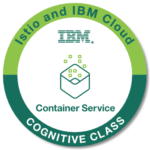 Getting Started with Microservices with Istio and IBM Cloud Kubernetes Service
Course Badge
IBM
Getting started with Microservices with Istio and IBM Cloud Kubernetes Service
HOW TO EARN THIS BADGE
This badge is earned after successfully completing all course activities and passing the test of the following Cognitive Class course:
Discover how microservices and Istio pair together for cloud-native apps. Learn how Istio and IBM Cloud Kubernetes Service help you securely and seamlessly deploy containers and apps.
WHY EARN THIS BADGE?
The badge holder can describe the 12-factor app principles, list the benefits of cloud native apps and the microservices architecture, describe how microservices are managed with IBM Cloud Container Service and Istio, show how to design microservices and how they communicate, show how a service mesh helps with microservice implementations, describe how Istio can be used to connect, manage, and secure microservices, and describe the logical components of Istio's data and control plane.
WHAT'S NEXT?
Take the next course in the learning path: "Beyond the Basics: Istio and IBM Cloud Kubernetes Service."
---
Learn more about the our Badge Program and the IBM Badge Program