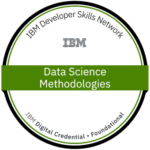 Data Science Methodologies
Course Badge
IBM
Data Science Methodologies
HOW TO EARN THIS BADGE
This badge is earned after successfully completing all course activities and passing the test of the following Cognitive Class course:
Grab your lab coat, beakers, and pocket calculator ... wait what? Wrong path! Fast forward and get in line with emerging data science methodologies that are in use and are making waves or rather predicting and determining which wave is coming and which one has just passed.
WHY EARN THIS BADGE?
This badge earner understands the essential steps used in data science business and research problem solving. This includes problem definition, collecting and analyzing data, building relevant models and understanding model deployment results.
---
Learn more about the our Badge Program and the IBM Badge Program