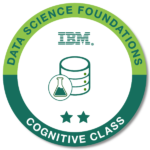 Data Science Foundations Graduate
Course Badge
IBM
Data Science Foundations – Level 2
HOW TO EARN THIS BADGE
This badge is earned after successfully completing all courses of the following Cognitive Class learning path:
When a butterfly flaps its wings what happens? Does it fly away and move on to another flower or is there a spike in the rotation of wind turbines in the British Isles. Learn data science today and enter a world where we work to create order out of chaos that will blow you away!
WHY EARN THIS BADGE?
This badge attests that the following skills have been obtained by the holder:
Understands how data scientists think and knows the major steps involved in tackling various data science problems, from forming a concrete business or research problem, to collecting and analyzing data, to building a model, and understanding the feedback after model deployment.

Has practical knowledge about open source tools that are commonly used by Data Scientists, such as the Jupyter Notebook, Zeppelin Notebooks, and R Studio.
WHAT'S NEXT?
---
Learn more about the our Badge Program and the IBM Badge Program