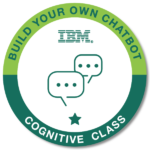 Build Your Own Chatbot
Course Badge
IBM
Build your own chatbot
HOW TO EARN THIS BADGE
This badge is earned after successfully completing all course activities and passing the test of the following Cognitive Class course:
Learn how to build a chatbot without having to write any code by leveraging Watson Assistant (formerly Watson Conversation). Then deploy your chatbot to a real web site in less than five minutes.
WHY EARN THIS BADGE?
The badge earner has demonstrated an understanding of the creation of chatbots by leveraging Watson Conversation and their deployment on WordPress.
---
Learn more about the our Badge Program and the IBM Badge Program