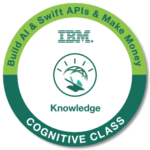 Build AI Swift APIs Make Money
Course Badge
IBM
Build AI & Swift APIs & Make Money
HOW TO EARN THIS BADGE
This badge is earned after successfully completing all course activities and passing the test of the following Cognitive Class course:
Expose your cool Swift microservices to the world and build a platform to monetize those APIs. By using server-side Swift and your mobile apps, you'll also learn to be a better full-stack developer.
WHY EARN THIS BADGE?
The badge holder can monetize, distribute, and secure APIs by using IBM API Connect. The badge holder can also write full-stack apps in Swift including iOS apps that expand and connect to the server-side Swift logic by using IBM Kitura and knows how to integrate Watson AI services in a Swift app.
---
Learn more about the our Badge Program and the IBM Badge Program