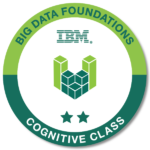 Big Data Graduate
Course Badge
IBM
Big Data Foundations – Level 2
HOW TO EARN THIS BADGE
This badge is earned after successfully completing all courses of the following Cognitive Class learning path:
Are you interested in understanding 'Big Data' beyond the terms used in headlines? Then select this learning path as an introduction to tools like Apache Hadoop and Apache Spark Frameworks, which enable data to be analyzed on mass, and start the journey towards your headline discovery.
WHY EARN THIS BADGE?
This badge attests that the following skills have been obtained by the holder:
Understands the big data ecosystem and Hadoop commands and operations to work with big data.

Has foundational knowledge around Spark and its operations including RDDs, DataFrames, and the various libraries associated with the Spark Core (MLlib, Spark SQL, Spark Streaming, GraphX).
WHAT'S NEXT?
---
Learn more about the our Badge Program and the IBM Badge Program