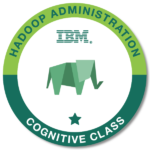 Big Data Administration
Course Badge
IBM
Hadoop Administration – Level 1
HOW TO EARN THIS BADGE
This badge is earned after successfully completing all course activities and passing the test of the following Cognitive Class course:
Open the door to move data into Hadoop to get the program working for you. This course's emphasis on Sqoop and Flume is on purpose to get you where you need to be obstacle free.
WHY EARN THIS BADGE?
This badge attests that the following skills have been obtained by the holder:
Has demonstrated the ability to move data into Hadoop using Sqoop and Flume.
WHAT'S NEXT?
Continue with the BDU Hadoop Administration learning path to obtain the Hadooop Administration - Level 2 badge or work towards other BDU learning paths and badges.
---
Learn more about the our Badge Program and the IBM Badge Program